A fabulous evening! Thanks everyone!
We started with 'Somewhere only we know'. I've split the oohs so that everyone gets them sometimes – this way we get an added depth to the song too. I split the yellows into oranges and yellows – if you missed last night, this will become apparent when you return – the oranges are sitting nearer the reds. I've made this to explain it and I've no idea if it's helpful…. when you're not singing the words in the verse, you're going 'ooooh' in three parts. Top middle bottom. For the tops it's the same tune for pinks as yellows, for the middle it's the same for the reds and the greens and for the bottom the same for the orange and blues. Sounds gorgeous when it all works. Next time we'll carry on with this and make a start on the chorus. All of these harmonies are on the shared drive and I'll be making conducting videos to support the learning for this song.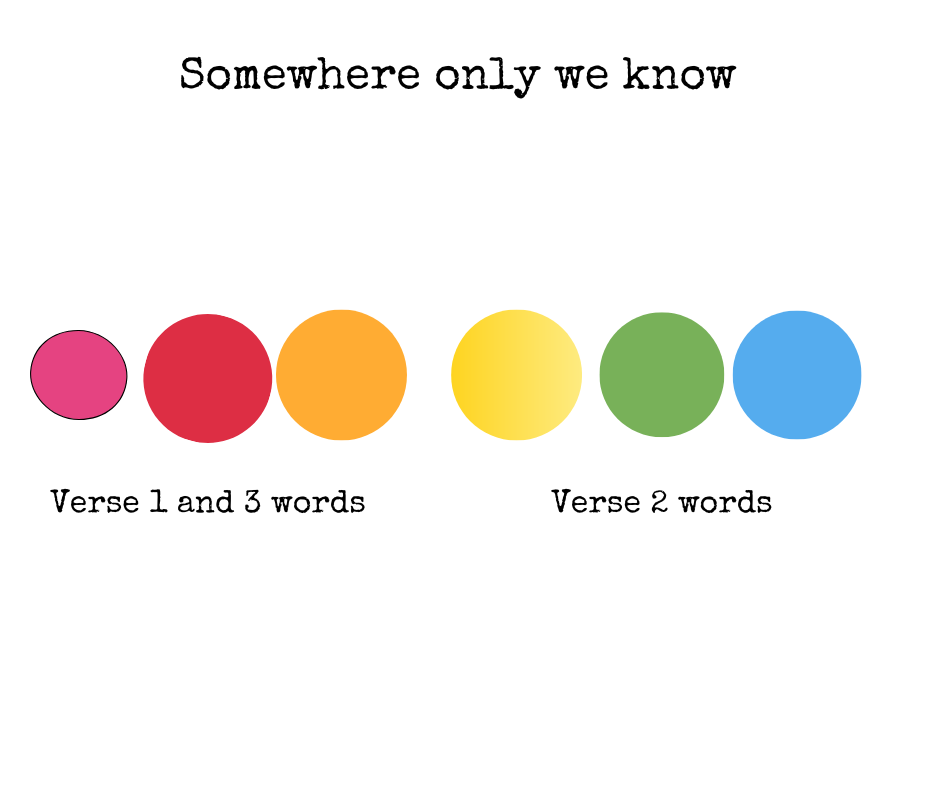 We moved on to 'Dear Darlin' – that choral section is still sketchy; do please have a listen again. I've taught it 3 times so if it's not up to it by the next rehearsal I'll simplify it or remove it. I plan for us to sing this at Portello on 19th December.
The Liberty Las entertained us with 'Caravan of Love' in the tea break which was marvellous! Well done ladies – acapella singing isn't easy and you nailed it. the Liberty Las meet just once a month and are Jo, Laura, Lucie, Lee, Christine, Abi and Barbara.
'Away in a Manger' sounded absolutely lovely – well done everyone. I'll adapt the piano track so we have a little more breathing space between verses.
'Underneath the tree' was a triumph as ever! I think this will be a real crowd pleaser for all gigs.
'King' sounded really lovely – have a look at the short video I posted of it in the Main Liberty Singers Facebook group (not the membership one – the other one is public so you can share from there)
https://www.facebook.com/groups/143319009655919/
'Carol of the bells' is very nearly finished – already. Sounded really lovely and gentle! Well done everyone. and the same for 'White Winter Hymnal'. We spent AGES learning this 3 years ago and it's great to be able to get it back up to speed so quickly – anyone new being swept along with the long standing singers who already know it. Fabulous.
It may well feel like we've a long way to go but we'll get there.
I haven't published set lists for anything yet as I want to be sure we're prepared. Nobody says we 'have to' sing a certain amount of songs so we'll sing what we are good at and shine like the stars we are.
Bonus points if anyone can drop in the comments on the Facebook group what the significance of the picture below was….