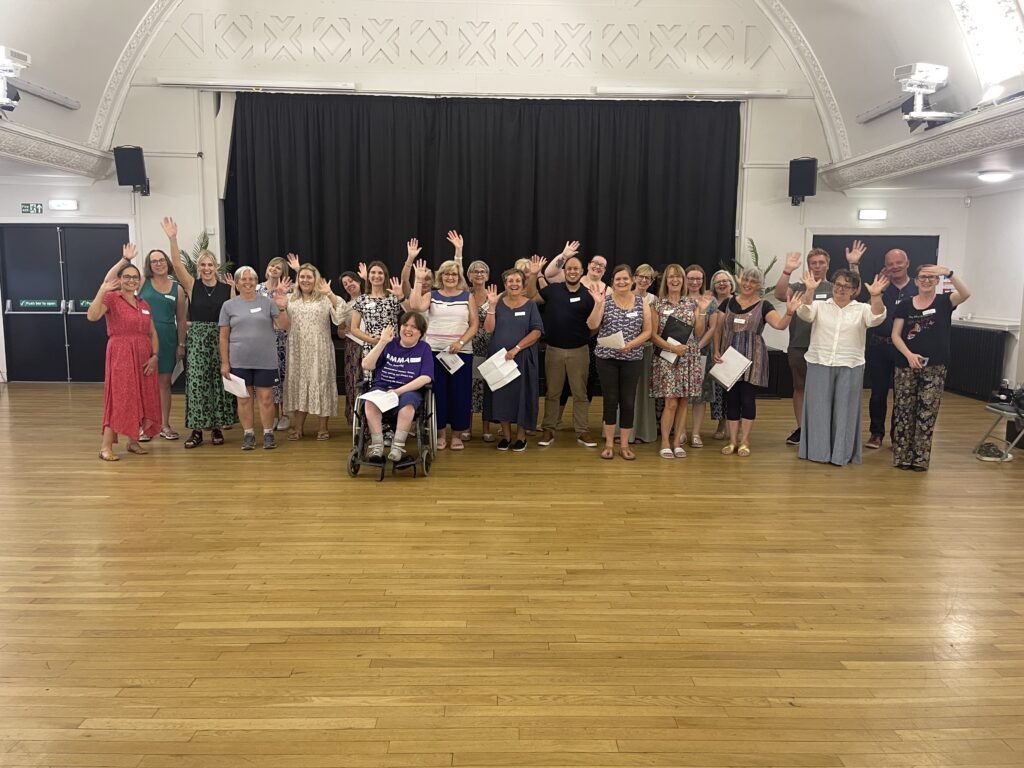 Oooh we had a LOVELY time at our workshop!
I was slightly worried that nobody would come because it was so hot, but no! Full house (minus just one).
I'd arranged Little Lies slightly differently this time…. it had a 'tune' part which actually was probably yellow. It then had a hideously high pink part, a red, a yellow harmony and a green one. Let's face it, the green was blue, the yellow was green… you get the picture!
There's a lot going on in this song with echoes and bits and pieces popping in here and there so I created a vocal 'table' which was an idea shamelessly pinched from a choir director friend, Abi Moore. This meant I could see more clearly where things went – who was singing what when etc which made it easier for me to conduct.
We started by splitting into parts. A workshop is a great way explore the vocal parts you don't usually sing. Quite a few brave people ventured out of their comfort zones singing either higher or lower than usual which was great to see – and hear. We worked as a big group, then split into small groups by voice part. I love running workshops like this. It allows some flexibility and creativity with the singers – working in smaller groups is a healthy way of giving responsibility to everyone leaving me to tweak and polish as opposed to being the fully hands on teacher.
2 hours whizzed by. We worked on the type of voice we were using to sing. We added extra voices where needed for balance after we'd listened back to a recording we'd made. We performed and filmed three times and this is the final result!
Huge thank you to everyone who joined us! Welcome to the new singers who are looking to join us in September and a massive well done to you all.
If this workshop left you feeling brilliant and you think something like this could work for your organisation…. I di run workplace singing workshops as well as short project choirs and long term choirs.