We had a totally lovely rehearsal! Around 55 braved there rain to come and sing our heads off – really great turn out and a brilliant atmosphere to match. Lovely to see some faces we haven't seen for a while as well as some new ones.
We started with some gentle humming of scales (a necessary singing evil!) then went on to 'Goodbye Yellow Brick Road'. We recapped the chorus harmonies – remember the greens are singing the blue part and the harmonies can be found on this website along with conducting videos. They're linked to my you tube channel (Liberty Singer). If you want a catch up, refresh or to learn from scratch, these are available to you all x We also had a go at this without words…. ohhhh scary stuff – and it was brilliant xx
'The Fear' was out throwback song! Love it and all the harmonies even if I'd forgotten the blue ones. I loved the dynamics you achieved with this – the change from soft to loud was really good.
We worked a little more on 'Don't Shut Me Down' – Greens, I'll have a listen to that dodgy audio track and work out what I've done wrong and get it sorted. Sorry. Technically, we have FINISHED the note bashing on this one! MASSIVE well done to Margaret and Claire for duetting the opening lines – a lovely gentle sound from you both. Well done. Further work on this song will involve looking at the intonation, dynamics and really creating some light and shade. We've got this.
'Human' needs quite a bit of recapping and going over just because it's been in the background for a while. Again, the harmonies and conducting videos for this are available on the website if you wanted to catch up. Mind the ssssss sound especially on notice (crafty c sounding like s). We'll be singing this one at the cricket so there will be more work done on it.
'One Day Like This' sounded lovely – and I'll be teaching again more thoroughly. The end section with the curtains really maintained it's energy – well done. This isn't easy. On the conducting video (it's after Read My Mind on this particular link) it shows you which colour is coming in which order on the split screen See if it helps at all – but I'll be teaching again anyway. 'One day like this' is at 4 mins 15
We finished with 'Sweet Caroline' which again, will go down brilliantly at the cricket!!!
Thank you for your energy and support tonight. We've had some lovely comments on Facebook threads about the rehearsal.
A reminder that I'm running a workshop on Tuesday 29th March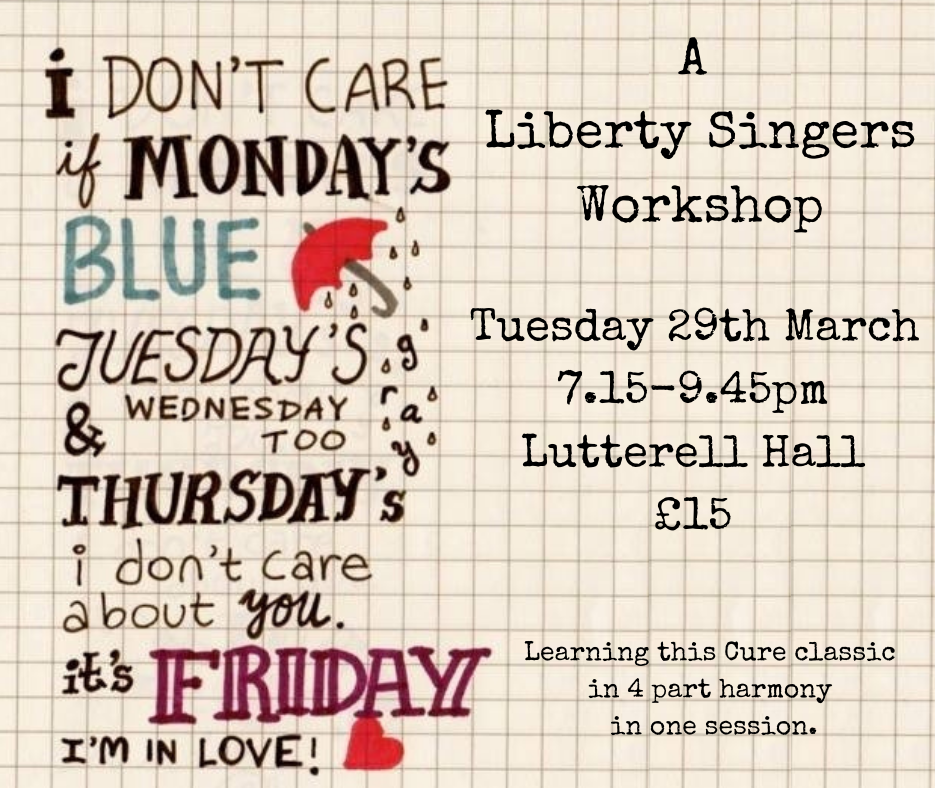 You can book yourself on here: